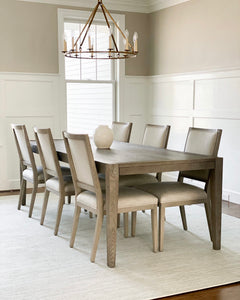 Learn More About The Process At The New England Rug Co.
As The Carpet Workroom continues to style homes across the New England region with custom carpet and rugs, we've embarked on a new journey to make your rug shopping experience more convenient. We are excited to announce that our top-selling, luxurious rugs will now be available online!
Our new online shop, The New England Rug Company (NE Rug Co.) is a subsidiary of The Carpet Workroom and will deliver our made-to-order rugs straight to your home. With just a few simple steps, you'll be able to craft your own exclusive, trending area rug style. The craftsmanship and diligence that goes into creating rugs at The Carpet Workroom has always been limited to the northeast. By launching The New England Rug Co., we'll be able to expand into new horizons and deliver our high-quality rugs to virtually anywhere across the United States. 
Why NE Rug Co.? 
The New England Rug Co. takes on a 'craft-to-order' approach for all of our rug products. Each rug ordered on our website is crafted from scratch, allowing us to deliver a rug that is designed specifically to your preferences. 
The New England Rug Co. carries a collection of exclusive, trending rug styles that traditionally are customer favorites at The Carpet Workroom. These aren't your typical rugs found at your local home improvement or flooring shop. Rather, you'll have access to a variety of high-quality area rug styles that are sourced directly from mills across the country. Rest assured, we still offer industry-standard area rug sizes to choose from for your desired space in case you don't need a custom size. The New England Rug Co. gives you the flexibility to choose the best style of binding so your new rug blends in perfectly in your home. 
Here's How the Process Works:
1.) Visit nerugco.com to check out our product selection and choose your favorite carpet style. 
2.) After deciding on a carpet style, you will have the option to choose your desired size and binding style. 
If you have a specific binding color or customization request, simply email us your detailed requests at info@carpetworkroom.com.
One of our dedicated carpet professionals will work with you to build out a personalized quote. 
Please keep in mind that some requests will not be able to be fulfilled depending on shape, size, shipping limitations and other factors that may come into play.
3.) Once your order has been placed, The Carpet Workroom's dedicated team of fabricators will review your request and begin the process of crafting your rug. 
As mentioned earlier, our rugs are made-to-order, so they do require a few additional weeks for fabrication before leaving our workroom. The typical turnaround time for rugs will depend on stock, special requests and order volume at our workroom. Nonetheless, you can expect to have your rug shipped in about 3-5 weeks. 
4.) Your rug will undergo a final quality check to ensure all standards and requests have been met before it's shipped out.
5.) Finally, your rug is shipped out to its final destination. 
You might be thinking, "Is that all I need for my rug purchase?"
Not quite. 
We always recommend purchasing rug padding to accompany any new carpet. Placing a rug pad under your area rug will guarantee the protection of your flooring and carpet material. It also gives your rug extra longevity so it lasts as long as possible! 
You can choose a padding based on your needs. For example, there's certain padding that increases comfort when you're walking across the floor without any shoes, making it a great choice for high foot-traffic areas. Paddings come in various pricing options, making it easier to find one that fits your budget! 
Need a Gift Idea? 
We've also made e-gift cards available to treat your friends and family to a new rug for their home. They can be used towards any online purchase on our website. But for our local shoppers in New England, gift cards also can be used for in-store shopping at both of our The Carpet Workroom locations!
Ready to shop? 
Your new elegant, stylish rug is only a few clicks away! You can explore our collection here
If you need more information or have any questions as you shop around, The New England Rug Co. has an integrated chatbot to assist you every step of the way. If you need further assistance, you can always reach out to info@carpetworkroom.com and one of our team members will connect with you to answer any additional questions you may have. 
---